THE ALBUM
Recorded @ The Jar Hole
Nashville, TN
Engineered by Mike Odmark
Additional recording @ Creative Caffeine
Nashville, TN
Engineered by Bobby Holland
Additional recording @ Loftsounds
Brooklyn, NY
Engineered by Kevin Augsburg
Drums/Percussion: Jared Kneale
Bass: Jerry Navarro
Keys & Accordion: Jimmy Wallace
Keys on "She's Gone": Daniel Ellsworth
Electric Guitar: Tyler Cain
Pedal Steel & Dobro: Smith Curry
Acoustic Guitar & Vocals: IH
Horns: Quentin Ware & Doug Moffet
Violin & String arrangements: Zach Casebolt
Cello: Lindsey Smith-Trostle
BGV's: The Mccrary Sisters, Jeremy Lister
Sam Brooker
Musicians on "Maybe"
Drums: Adam Bokesch
Bass: David 'DayDay' Jennings
Electric Guitar: Brian Campbell
Keys: Daniel Ellsworth
Strings Programming: Chris Marion
Produced by Sam Brooker
Co-Produced by Bobby Holland & Isaac Hayden
Mixed by Bobby Holland, except 'Cruel World' Mixed by Sam Brooker
Mastered by Dan Shike - www.toneandvolume.com
All songs written by Isaac Hayden, except where noted.
1. Cruel World (IH, J. Molloy)
2. How Did You Get Here
3. Fools Game
4. Emily (IH, A. Billups)
5. Revolution (IH, J. Kneale)
6. She's Gone (IH, P. Stewart)
7. When I Was Young (IH, A. Billups)
8. Maybe
9. Wyoming (IH, A. Billups)
10. Falter (IH, P. Stewart)
Photography: Laura Godwin
Album Design: Design by D.B.B.
Contact:
www.isaachaydenmusic.com
Artist Revolution
Gratitude

To Kent Nelson, Noah Waldron, Reid Shippen, and Keith Hayman - I am forever in your debt for your willingness to contribute to my musical development. Thank you SO much! To all the musicians, and everyone who is part of this album - you are all wonderful humans and I am so thankful to know you; your ability and creativity painted the songs in ways I never imagined. Bobby Holland - for taking our nonsensical ideas and making them technically possible, YOU ROCK. And for always keeping us centered, on the path. Mike Odmark - thanks for laying such a strong foundation, getting us started in the right direction from the get go. Kevin Augsburg - it was a pleasure to sing in your spaceship, you are an amazing pilot. And you found Beyonce's 251, thanks!! Dan Shike - you put the cherry on top, glad I was there for the tattoo! Savanna - for your support, love, friendship, patience, and otherworldly intuition. Dana Brewster & Laura Godwin - Thank you for your magnificent eyeballs. To my family, friends and fans, here, there, and everywhere, thanks for staying involved and lending your love, and ears, to this project. Finally, with my entire heart, thank you to Sam Brooker and all the people who comprise Artist Revolution. Sam - your belief, patience, knowledge and innovation have inspired me endlessly. This project is a dream without you, thanks for seeing it through and bringing the dream to life. And finally finally, thanks to YOU for listening, because for me, Music + Singing = A Joyful Living. THANK YOU, see ya down the road, and Much Love!!
SongWriters
Pete Stewart --> www.fourthwallmusic.com
Jesse Molloy --> www.crusheffect.com
Anthony Billups --> www.anthonybillups.com
Jared Kneale --> jaredkneale.com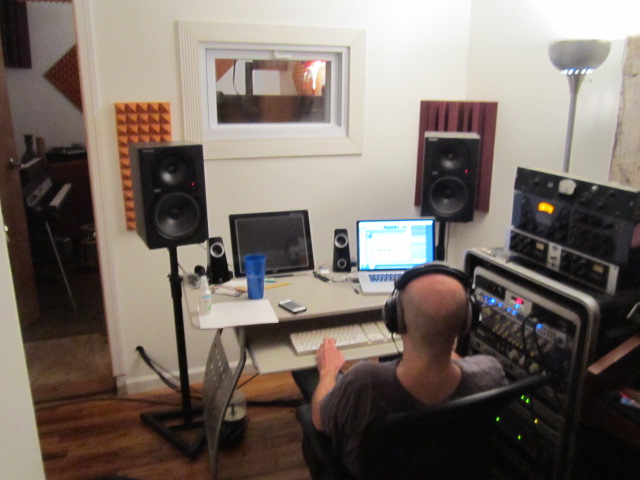 LYRICS
Cruel World (ih, Jesse Molloy)
Oh, when I was young my Mama told me
Boy, don't you forget where you come from
Do your best to love everybody
Be safe, strong, and free
Oh but Mama, a Cruel World got a hold of me
Chorus
Mama said
That a Cruel World gets better
When a strong man speaks his mind
Yea it's a Cruel World, don't sweat it
Follow your heart child
And you'll be all right
Born to run I was chasing daydreams
But there she was brighter than the sun
Yea I know, got to love everybody
Guess I'll start with she
Before a Cruel World takes her away from me
Chorus
Cause these days it's getting hard to breathe
The Cruel World's got me down on my knees
But every time I get down I think of you
I think of you ..
How Did You Get Here
Here I sit, on this dock
Watching the rising sea
And I can listen, but I won't talk
Until this wave comes down
And crashes on me
And so I look, up at the darkened sky
And I slowly wonder why
So many questions, so few answers
And I got so little time
Chorus
How Did You Get Here?
I don't know baby, I'm just followin
How did you find me?
I don't know baby, but I did
How can you see me?
I don't know my love, I'm just wondering
How much longer till the rain comes
To wash you away
And so we sit, and we talk
And I listen while you ramble on
About your life, the way I walk
And how I always sing that same sad song
But can't you see, what you do to me?
There's somethings I just can't change
And now I know, wherever you go
You will always be the same
Fools Game
My heart, has been beating slow
Ever since you went away
And if I was cold, or if I left you alone
I hope you understand that this was
Oh, the only way
Chorus
Love is a game played by fools
That break all the rules
Just as sure as a heart will change
And I walked away from you
Now there's nothing left to do
But move on, love
And I hope you do the same
My words, have been falling short
I can't understand the way you feel
I thought that our love
Would forever be strong
Now you're gone and I'm alone and I
Can't believe it's real
Chorus
Tell me father
What you do with your sons
That spend time with the bottle
And live life on the run
Cause I've been a bad boy
Yea I've gone and broke her heart
Now I wonder if my time has come
Or if it's too late to start

Emily (ih, Anthony Billups)
These days I know more than I wanna know
I've seen heartache and pain and it's hard to let it go
But it's always a blessing, to see something precious
Like your smile
When you look at me I see innocence
It reminds me of the days I had no defense
And it's crazy to feel, cause I ain't felt something real
For a while
Chorus
Emily, I'm not the one to run to
Emily, babe ya know I'm not your kind
Emily, I know you're lonely
Baby, so am I
So don't cry my Emily
So many days have come and gone
Since I first saw your face and we sang that song
But baby believe me, every detail I still see
Even after all these years

Revolution (ih, Jared Kneale)
You think I was meant for this
Living my life in your cage
But I know a power exists
Your walls cannot contain
Chorus
You fear the prisoner
He got what you wanted, not what he deserved
The day is gonna come when the prisoner sings
It takes Revolution for the master to change
You can hold on to your pride
As long as your playing the fool
The difference is only a lie
So easy it feels like truth
Chorus
It takes Revolution for the master to change

She's Gone (ih, Pete Stewart)
She don't want love
She don't want time
She don't want nothing more
Than to leave your heart behind
She don't want this
She don't want that
The only thing she wants
Is to leave you where you're at
Chorus
And so She's Gone, far away
She don't want your ways
She don't say no
She don't say yes
She don't say much at all
But she never rests
She don't say love me
She don't say try
The only thing she says is baby
Close your eyes
Chorus
She was all I ever wanted, all I ever tried
The only thing I needed to open up my eyes
She gave so much
More than I expected, more than I could abide
She opened up a window and I fell deep inside
But now she's gone, and I'm alone

When I Was Young (ih, Anthony Billups)
Let me believe what I'm doing is right
I've come to far to not put up a fight
But I'm getting old
All I really want's a bigger piece of the pie
I'm so tired of just getting by
Yea it's getting old
And I'm not sure where to go
Chorus
When I Was Young
I would've worked it out
When I Was Young
Seemed like none of this ever slowed me down
Yea When I Was Young
Never had a doubt, I'd make it out
When I Was Young
Gone are the days when I had the whole world
Figured out, locked down
Yea I was going there
Now I'm sittin here watch the cars roll by
Everybody's got a place to fly
But I'm still frozen here
Chorus
Getting old, it ain't easy for no one
Don't it make you wonder what you could've done
When you were young?

Maybe
Lover, tell me a story now
The hour is late and I grow tired
It's been a while, since you came around
It's a hard thing to say
But I say it now with pride
I don't know much about the weight of the world
But I know it's what made you fly
Chorus
Maybe, Maybe
I'm lost without you
You said that I'd be fine
But I'm tired and scared
And lonesome without you
Just gotta last tonight
And tomorrow I'll come clean
And Maybe you won't leave
I remember the day after you'd gone
Caught myself reaching for you there
I slipped undercover in a world gone wrong
Fighting to breathe, struggling to care
I never knew bout the weight of the world
Till after you said goodbye

Wyoming (ih, Anthony Billups)
How ya been good ole Wyoming?
It's been a while since I seen your sky so blue
Somedays I cry, but usually I wonder why
I ever left you
Chorus
Do the cowboys still roll through?
Do the Rockies swallow the moon?
Do the Cheyenne winds still blow?
I'm dying to know, how ya been
Good ole Wyoming
I'm dying to know
How ya been, good ole Wyoming?
These city lights won't shine as bright as my love for you
When my body is gone, my soul will wander on
Forever with you

Falter (ih, Pete Stewart)
And so we've gone for broke
Let it all hang out
In fancy cars, and old dive bars
Pictures of it all
Have been plastered to your walls
I'd hoped by now
We'd have this figured out
Chorus
I ain't got nothing to prove
So let me give this all to you
Before we break down and we Falter
Where could I go my sweet love
If you were not here on the shore
To pull me back in from the water
Don't Falter
Pull down them jeans
And we'll hide in movie scenes
Fairy tales, where no one fails
Words have no more use
When the words have no more truth
So lay back down and we'll
Work this whole thing out
All songs ©Artist Revolution, 2014.